Summer Clothes for Men: A Guide to Stylish and Comfortable Summer Fashion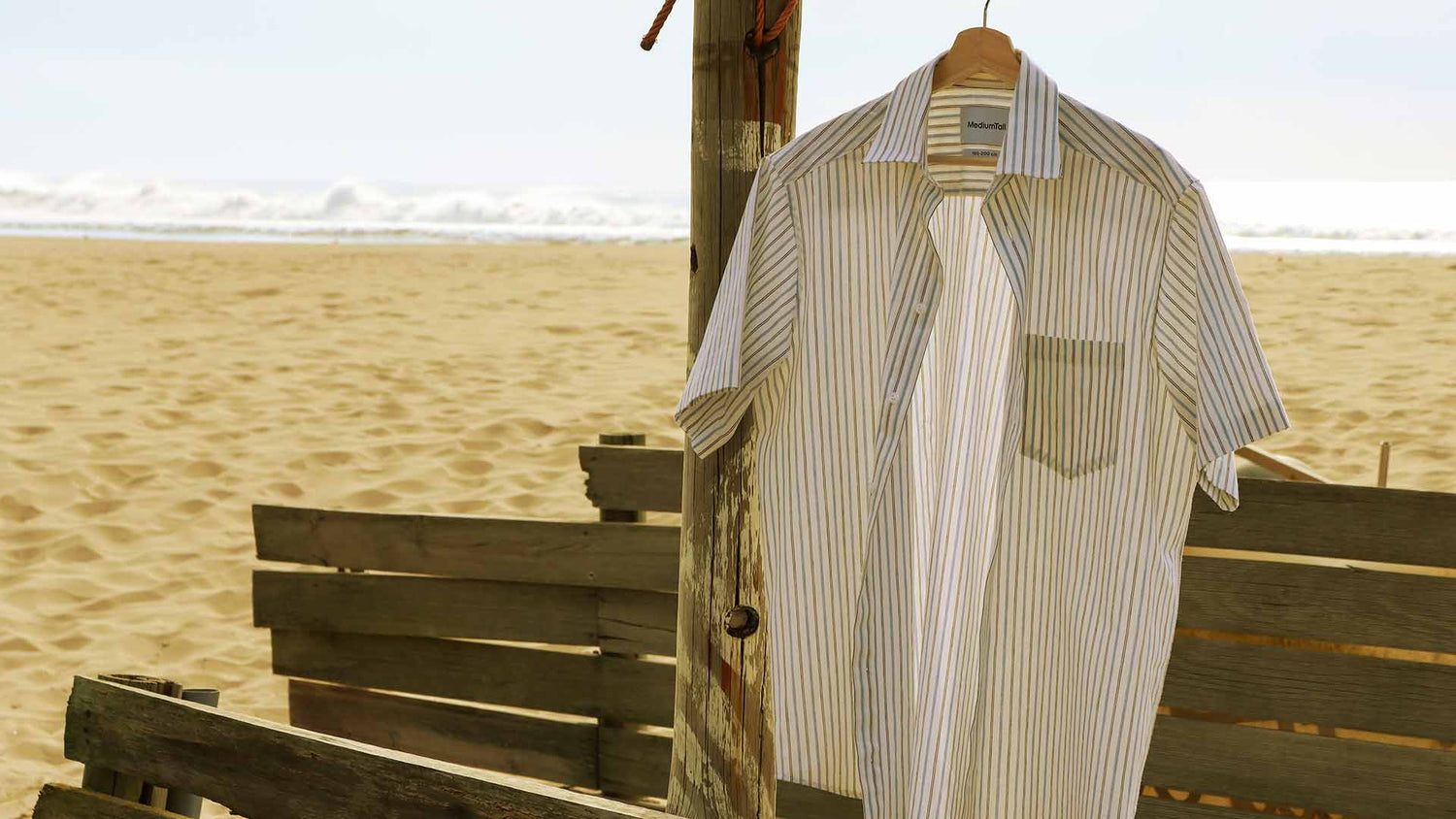 Summer is in full bloom, and it's time to update your wardrobe with stylish and comfortable summer clothes. Whether you're going to the beach, a picnic or just relaxing in the garden, it's important to dress appropriately to stay comfortable in the heat. This guide will give you inspiration and tips for choosing the best summer clothes for men, so you can look good and feel comfortable throughout the summer season. Below we have collected our best tips for both looking and feeling good.
Choose light and breathable materials:
As the temperature rises, it is important to choose clothes made of light and breathable materials. Linen and cotton are ideal choices for summer clothing as they allow air to circulate and help keep you cool. Avoid heavy material such as polyester, as it can feel uncomfortable in the heat. Lightweight cotton shirts, t-shirts and chinos are good choices for a comfortable and stylish summer style.
Explore our shirts in light and breathable materials here.
Go for bright colors and patterns:
Summer is the time to explore bright and vibrant colors. Choose t-shirts, shirts, jumpers and trousers in shades of colors such as yellow, blue, light blue, green or red for a fresh look. Avoid wearing all black as it absorbs heat and can make you feel hotter. For a timeless touch, you can also choose clothes with discreet patterns or stripes.
Here you will find T-shirts in summery colours.
Light trousers and a slightly looser fit:
Trousers with a slightly looser fit are perfect for summer and give you a relaxed and informal style. Choose shorts that fit well and are made of lightweight material such as cotton or linen
. Trousers with elasticity provide good mobility and do not become as clammy in the heat.
You can style them with a simple t-shirt and sneakers for a relaxed look, or combine them with a shirt and sandals for a more sophisticated style. Remember to choose the right length for the shorts - they should go slightly above the knee for a modern and stylish look.
Protect yourself from the sun:
When you're out in the sun, it's important to protect yourself from its harmful rays. Invest in a pair of sunglasses that suit your face shape and provide the right UV protection. A stylish hat can also be a great addition to your summer outfit, while also providing protection from the sun. Choose a cap, a straw hat or nice cool bucket hat.
Light footwear:
When it comes to summer footwear, it's best to go for light and breathable options. Flip-flops and sandals are ideal for casual occasions such as beach walks or picnics. Sneakers are also a great choice, especially if you want a more sporty and trendy look.
Choose clothes that fit the body correctly.
An important factor to consider when choosing summer clothes for men is the fit. No matter how stylish a garment may look, it will not produce the desired effect if the fit is not correct. Clothes that are too big can give a sloppy and unflattering look, while clothes that are too tight can be uncomfortable and restrict freedom of movement. A good fit can transform an outfit, highlight your best features and give you a confident and polished appearance. Make sure you choose clothes that fit correctly around the shoulders, chest, waist and legs, and don't be afraid to see a tailor to adjust the clothes to your body type. When your clothes fit perfectly, you'll feel better and look amazing no matter what you wear. Our clothes are specially adapted to tall men and have a fantastic fit for you over 180cm.


Remember, fashion is about expressing your personal style and feeling confident. So don't be afraid to try new trends and adapt them to your own unique taste. Enjoy the sun, the heat and the long summer days with the best summer clothes for men. Have a wonderful summer season!
If you are looking to shop Tall Clothes in Norway - check out www.mediumtall.no