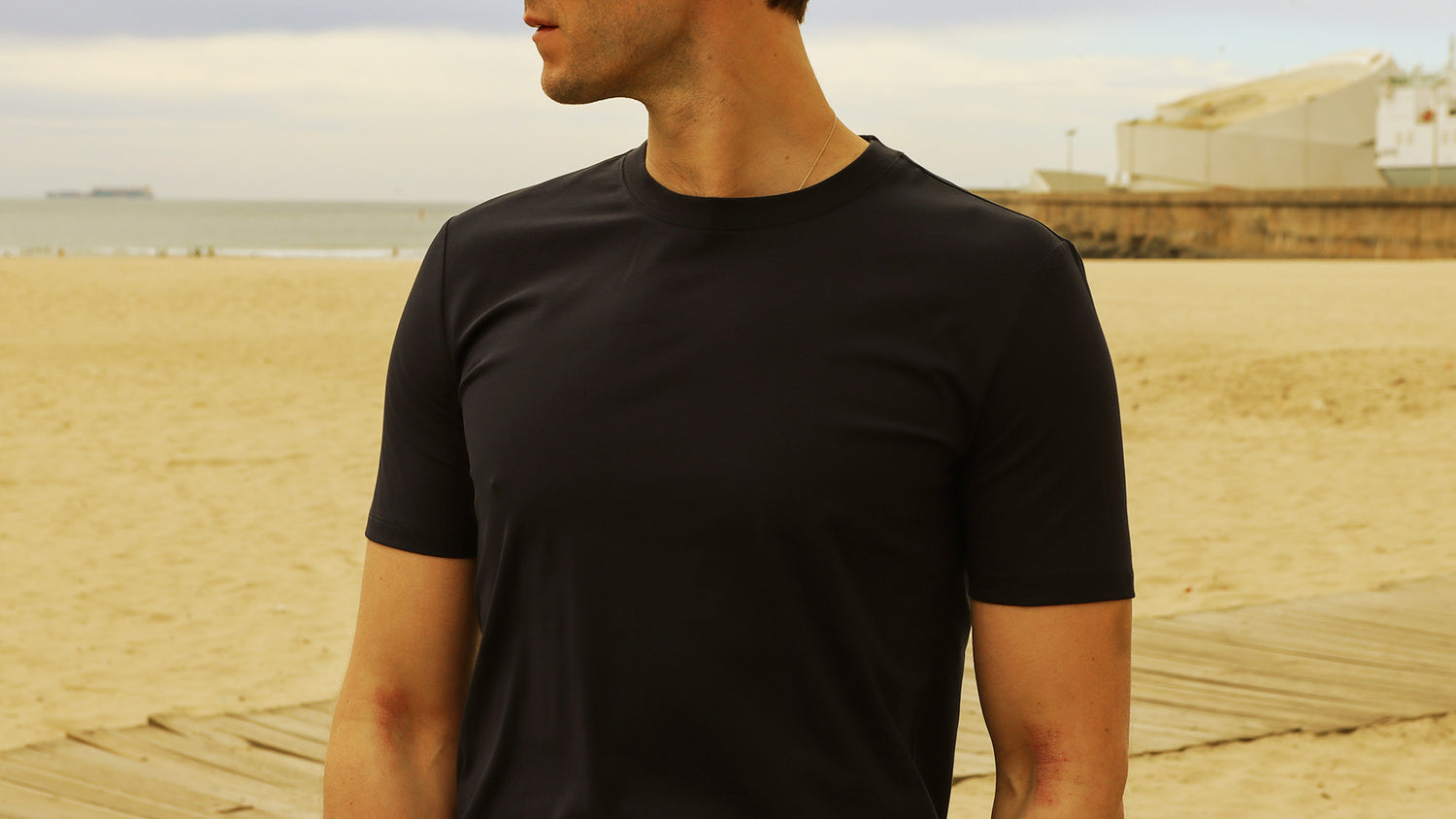 Tall Mens Clothing 
Finding stylish clothing for a skinny and tall gentleman might be difficult. All of the marketing efforts emphasise thin or built models, offering little motivation for skinny and taller males. Small and tall sizes are available at a few retailers, but they're usually plain and simple - and occasionally even daggy. 
So, where do you begin your search? 
This is where mediumtallclothing shines, but first, some fashion tips for tall guys on how to dress decently. 
How does mediumtallclothing works  - HIstory of Mediumtallclothing 
Welcome to our line of clothing designed just for tall folks like you and me. We're two childhood friends who just abandoned our day jobs to work full-time designing excellent fits for gentle giants over 180cm. Take a look around, read our narrative, and contact us if you have any questions. 
We continued to re-invest all earnings after we had spent all of our savings on t-shirts. As a result, the original 150 t-shirts have now supported our whole assortment of tall-friendly clothes. 
We are clients of our own brand, therefore everything we do must meet our high standards. Everything must be above average in terms of quality, fit, customer service, and delivery.
How mediumtallclothing solves your problem 
Mediumtallclothing provides clothing for tall and slim men and eliminates the stress of trying to find the right fit. Our company specialises in tall clothing and has been delivering it to the community for over 5 years. 
What we provide for our customers 
We provide a wide range of high-quality clothes, including t-shirts, shirts, sweaters, jackets, pants, and socks. 
T-shirts 
Our t-shirts are created from high-quality materials, with excellent tailoring. All of our outfits are created to be simple, fashionable, and timeless pieces that can be worn all year. 
It's very soft, wrinkle-proof, and long-lasting thanks to the long cotton fibres. It's very mild for delicate skin on top of everything else. You have to experience it to believe it! 
It's ideal for a tall individual who wants a custom fit for their everyday life and is tired of wearing the same old.
Our t-shirts are excellent for casual wear and may also be worn on a daily basis. 
Shirts 
This shirt was thoughtfully designed with your shape and length in mind. Do you want your friends and family to know that you have style but also value practicality and comfort? That's exactly what this tall shirt will do for you.
Because of the lengthy cotton fibres, it is extremely soft, wrinkle-resistant, and long-lasting. For top of that, it's incredibly gentle on delicate skin. 
Our shirts come in a variety of styles, including oxford, denim, phoenix, and more, and can be worn both formally and professionally.
Sweaters 
The Mediumtallclothing Sweaters are a new addition to the Mediumtallclothing collection. We scoured the world for the best fabric and began designing the ultimate sweaters for tall men - men's sweaters tailored to fit guys like you. 
Soft as a cloud. It's also adaptable, as it may be worn alone or layered with a tall dress shirt or a tall blazer. Wear it with a plain tee, an Oskar Tall Dress Shirt, or nothing at all . Because that's what Mediumtallclothing is all about. 
Our sweaters are available in a range of styles, including college, wool, and turtleneck, and are suitable for both leisure and professional use.
Jackets 
Our whole collection is designed and stocked with tall men in mind, so all of the coats and jackets you'll find here at mediumtallclothing are appropriate for tall guys. Our coats and jackets are extra long-sleeved and extra tall. There are many different styles, colours, and sizes to pick from. 
Our jackets are made of the finest fabric available, which is soft, wrinkle-resistant, long-lasting, and comfortable to wear.
Our jackets are composed of wool and available in a variety of designs such as fleece jackets, thick wool jackets, and overshirts that may be worn casually or formally. 
Pants 
In the ever-changing casualization of formal dress rules, a good pair of tailored men's pants has been overshadowed by chinos, jeans, and the more appealing wide-legged pant. 
Our company specialises in producing pants, jeans, sweatpants, and tech pants, among other items. For pants and trousers, we utilise the best material available, which is wrinkle-free, washable, and extremely comfortable, making it ideal for a tall guy.
We provide a range of pants such as jeans, sweatpants, and tech pants that may be worn in a number of ways, such as officially in jeans, informally in sweatpants, and professionally in tech pants. 
Our Guarantee to customers 
The Perfect Fit Guarantee applies to all of our garments. This means you have up to 30 days to try on the clothing. You'll receive your money back if you're not satisfied! No questions asked.
Tips for Finding the Best Clothes for Tall and Slim Men 
For us tall and slim guys, fashion does not have to be a dirty word; nonetheless, you must be well-prepared to take on the task. The objective is to produce a proportional optical illusion. It's critical to know what you're searching for when you're out shopping. 
Here are some of my tips for highlighting your height through apparel and maximising the natural attention you draw. 
There isn't a lot of useful information accessible. When skinny and tall men seek style assistance, they are typically offered practical recommendations like going to the gym or eating more food. Yes, these suggestions are beneficial, but it will take months, if not years, before you notice any results. 
Avoid oversized clothes
The majority of tall people believe that wearing big clothing will make them appear buffed, but the contrary is actually true. You have the appearance of a skeleton. The big clothing just serves to highlight how
thin you are. Choose garments that are well-fitting and appropriate for you, with no excess fabric hanging around. That means no large shirts or coats. 
Avoid excessively tight jeans
I know we recommended to wear clothing that fit, but don't go overboard with the tightness since it will make you seem even thinner. They draw attention to your tiny figure, making you appear slimmer than you are. Instead, choose for narrow or fitting jeans that provide some wiggle space for your legs to breathe while still making them appear larger.
Wear bulkier fabric
Fabrics like flannel, denim, and corduroy create the impression of having more body mass than you actually have, making you appear broader and more muscularly built. 
Layer up
Layer your garments from light to heavy and from thin to thick. Essentially, this implies that you should start with the lightest and thinnest fabric (such as a basic white tee or a plain white shirt) and work your way up to a heavier outer layer, such as a denim jacket. 
Work With colours
Lighter hues, such as white, beige, or pastels, could be appropriate. Many people are aware that darker colours make you look slimmer, but few are aware that lighter colours make you look bigger. 
Tall Skinny Guys' Favorite Shirts
It might be tough to find a brand that offers the correct fit for thin and tall mens clothes, especially when it comes to shirts. The sleeves should cover your wrists, the length should reach the top of your waistline, and the fit should be loose without a billow of surplus fabric. 
Mediumtallclothing has the greatest tall tees as well as properly fitted tall long sleeve shirts. That you'll never want to take them off. 
Our company Mediumtallclothing assists tall and skinny individuals in choosing a better method to dress themselves and appear amazing. We have assisted many people in making better dressing decisions for many years and will continue to do so in the future.